This recent Trademark Trial and Appeal Board (TTAB) precedential decision offers guidance to companies determining whether to seek trademark protection for flavor or scent trademarks.  On February 25, 2013, in In re Pohl-Boskamp GmbH & Co., 106 USPQ2d. 1042 (TTAB 2013) [precedential], the TTAB affirmed the USPTO's refusal to register the flavor and scent of peppermint for pharmaceutical formulations of nytroglycerin.  The Trademark Act does not preclude registration of scents and flavors as trademarks. See In re Clarke, 17 U.S.P.Q.2d 1238 (TTAB 1990), where the TTAB held that the scent of Plumeria blossoms for thread and yarn was registrable.  The key issues in In re Pohl-Boskamp GmbH & Co., centered around whether the mark functioned as a trademark and whether peppermint affected the quality of the product.
Under the Supreme Court's decision in Inwood Labs, Inc. v. Ives Labs, Inc., 456 U.S. 844 (1982), a product feature is functional if it is essential to the use or the purpose of the goods or if it affects the cost or quality of the goods. With respect to functionality, the applicant argued that peppermint flavor had no therapeutic properties and that the peppermint did not function to mask the product's flavor, because nitroglycerin is generally odorless and tasteless. Conversely, the Examining Attorney introduced U.S. Patent No. 6,559,180 to demonstrate that even though peppermint oil is inactive in the spray, peppermint oil used in nitroglycerin spray could enhance the spray's effectiveness. The TTAB held that this evidence was enough to prove that the proposed mark was functional.  It showed that adding peppermint oil may be a means to improve the spray's effectiveness. That being the case, then competitors may also want to take advantage of this enhancement. If the applicant has the exclusive right to use the peppermint flavor, a competitor would be at a disadvantage, having to forego using the peppermint oil to improve the spray's effectiveness.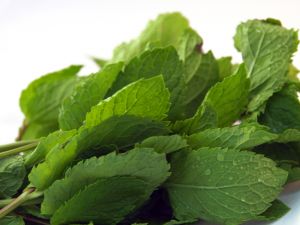 The second ground for refusal was failure to function as a trademark. Flavor and scent marks can never be inherently distinctive. In order to prove acquired distinctiveness, there must be a substantial showing to demonstrate that a flavor or a scent is registrable. To prove acquired distinctiveness, the applicant here stated that the use of the peppermint flavor and scent was "substantially exclusive" since 1989. The applicant also submitted 23 declarations of physicians and pharmacists to show that the peppermint flavor and scent acquired recognition.  The Board did not give much weight to the declarations, because they were basically identical in form, and not created individually for each declarant.  Another factor, cutting against the applicant was the existence of a competing product in the pharmaceutical industry using a peppermint flavor and scent.  The Examiner explained that this would allow consumers to believe that the peppermint flavor and scent was a mere physical characteristic of the product, instead of a source indicator.