Tiffany has been in the jewelry business since 1886. It holds 97 trademarks that relate to its company name "Tiffany".  Tiffany and Company and Tiffany NJ LLC ("Tiffany") sued Costco Wholesale Corporation ("Costco") in the Southern District of NY alleging trademark infringement, dilution, counterfeiting, unfair competition, injury to business reputation, false and deceptive business practices, and false advertising. See Tiffany & Co. v. Costco Wholesale Corp. No. 13-CV-1041 (S.D.N.Y. Feb. 14, 2013). Costco counterclaimed arguing that the terms "Tiffany" and "Tiffany Setting" are generic words for ring settings that have multiple prongs shooting upwards from the base of the ring to hold a single gemstone (a particular setting type). Costco further asserts that Tiffany has no right to prevent Costco or any other third party from using the term "Tiffany" in its generic or descriptive sense.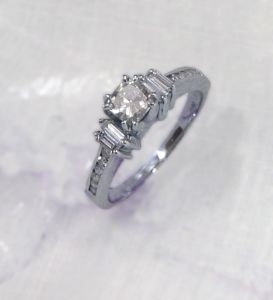 Tiffany alleges that Costco is using the TIFFANY trademark in the descriptions of two rings to sell diamond engagement rings. These rings are not manufactured by Tiffany. Tiffany argues that use of the TIFFANY mark in this manner is illegal. The jewelry manufacturer and retailer moved for summary judgment seeking dismissal of Costco's counterclaim. The Tiffany registrations  that are relevant to this dispute are U.S. Registration No. 1,228,409 TIFFANY in International Class 014 for jewelry and other goods and U.S. Registration No.133,063 for the stylized mark TIFFANY for jewelry and other goods. Tiffany further alleges that it refers to one style of engagement rings as a TIFFANY setting ring (a six prong setting that holds one diamond). The USPTO registered these trademarks and as a result, there is a presumption of validity for Tiffany. This is one of many advantages of filing your trademark on the Principal Register . This places Costco in the position of having to overcome the presumption that consumers perceive the mark as inherently distinctive.
Trademarks are evaluated and are categorized based on the strength or weakness of the mark. The scope of protection given a trademark depends on whether it is considered inherently distinctive.  Generic terms cannot function as trademarks. See Trademark Manual of Examining Procedure (TMEP) §1209.02(b) where it states that a claim of acquired distinctiveness cannot overcome a generic refusal. This is because generic words are understood by the general public to refer primarily to the category of goods or services and does not distinguish the products or services on the basis of source.